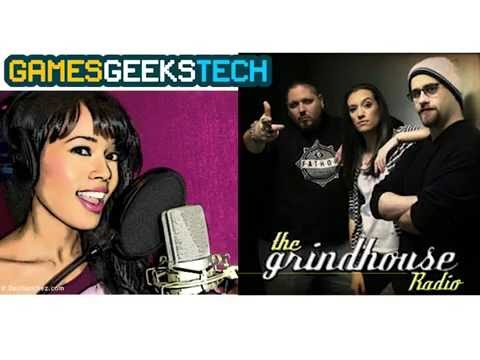 Well helloooo GGT friends! We have a very special edition of the GGT Talk for you this week – a fun chat with the Co-Founder & Deputy CEO of The Tech Academy out in Portland! Are you looking to change careers, or are you a recent high school grad looking at the cost of college and saying "Ummmmmm, no…." 😉 ? Well a coding bootcamp could be just the thing for you, that leads to your technology dream job!
Tune in and get all the details, starting around the 87 minute mark for our segment. And be sure to check out The Tech Academy at LearnCodingAnywhere.com/Home/Contact – and tell 'em Games Geeks Tech sent ya!
*UPDATE: A lot of listeners have messaged us about the quality of the audio – and you're SO right – we had a bad connection during the interview and we apologize that it's hard to hear all the nuggets of knowledge that Eric & Hannah passed on. That's why we're going to interview them AGAIN for GGT TV – coming soon!
In the meantime, we have posted the full TRANSCRIPT of this interview at the bottom of this post, so you can read along, or skim thru it to get all the details you might have missed ;).

https://www.iheart.com/podcast/53-The-Grindhouse-Radio-27408283/episode/8-3-17-tabitha-stevens-28360693/
As always, you'll want to check out the show from the start, because GHR knows just what you want to hear! This week, Brim, Kim, Zambo and Tom are back at it again! They have another round of "Guess the Wontons!"courtesy of All American Wontons, Brim gets excited for a nice long family vacation, and they speak with an old friend of Brims, Tabitha Stevens and much more! Don't miss it!
---
Desi: "Hey guys, Desi here for the Games Geeks Tech Talk, and we have a  very special Tech Career edition for you today – chatting with Eric Gross, and Hannah Patterson, the Co-Founder and Deputy CEO, respectively, of the Tech Academy, out in Portland Oregon. Eric, Hannah – thanks so much for being with us today!"
Hannah: "Thanks for having us!"
Eric: "Appreciate it!"
Desi: "So, tell me about the Tech Academy – I know there are a lot of people who want to get into technology; what do you guys do and how can you help our listeners?"
Eric: "We conduct a 15 to 20 week tech bootcamp to create a coder or a software developer professional in just a few months. You learn the fundamentals of computer science, you learn the current technologies that people are going to want to be able to get you a job, you learn how to get a job, and you learn how to navigate your career once you graduate."
Desi: "That's amazing! And I know that your web site is LearnCodingAnywhere.com – so does that mean that you really can study no matter where you are?"
Hannah: "Yes! We take students from literally all over the world; not even just in the United States on both coasts, but all over the globe."
Desi: "Now a lot of our listeners might be thinking: 'I don't know; do I qualify for a career in technology?' A lot of people are looking for jobs in general, so how do you know if a career in technology is right for you?"
Eric: "You know, you might want to try a little bit of coding challenges online. Go to any one of a number of available things like Treehouse, just try what they have in terms of coding to see whether you like it. Also, a lot of people have tech friends; talk to them — what's the job like? You'll find most people have misconceptions. It's a very people oriented businesses, it's very fun, dynamic, very challenging, problem-solving. But just talk to people in the industry and try some coding challenges."
Desi: "Yeah, makes sense! So what are some of the hot technology jobs that are available out there today?"
Eric: "Web development obviously is huge; anything you can do involving creating web applications. Obviously app developments — you know: creating applications for iPhone and for Android. Not for blackberry or windows phone, because… lets get real, right?"
Desi: [laughs]
Eric: "And, jobs that help maintain the different computer environments for software developers to do their job. That's a category called Dev Ops. Those are some really, really hot areas today!"
Desi: "So if we wanted to get into one of these careers, and decided to sign up for the Tech Academy bootcamp, is there a deadline to sign up? Is there a fixed semester that begins and ends at specific dates? Or how does it work?"
Hannah: "The great thing about our program being self-paced and people moving through at their own speed is that it allows us to be open enrollment. We are accepting students everyday of the week. Just contact us through learncodinganywhere.com and we can talk to you about what that process looks like."
Desi: "Works for me! ….Guys, if you think that YOU might want to try a career in tech and you want to get on the fast track, I really think bootcamps are the way to go, Check out the Tech Academy at LearnCodingAnywhere.com, let 'em know that GamesGeeksTech sent ya, or go to OUR site at GoGGT.com/GHR – we'll have links posted there, as well as the full VIDEO interview with these two lovely folks! Thank you SO much for listening, and I'll have more tech and gaming goodness for you next week, right here on the Grindhouse Radio."
---
Thanks for listening, and don't forget to follow us on social media for more:
Twitter.com/GamesGeeksTech
Instagram.com/GamesGeeksTech
Facebook.com/GamesGeeksTech
Youtube.com/c/GamesGeeksTech