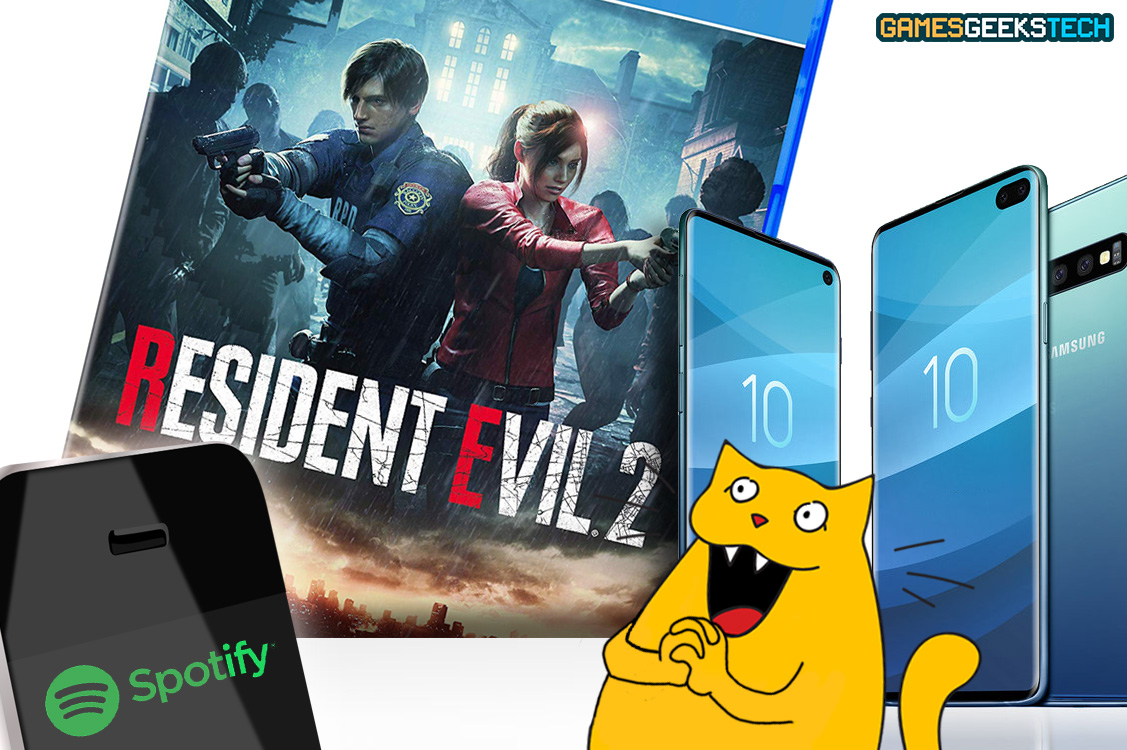 Heya GGT peeps! We can't let the first month of 2019 go by without talking some games, so this week we are reviewing the Resident Evil 2 remake, looking at the Samsung S10 series for gaming potential, and kicking it all off with a new Spotify feature that might make your listening experience a little sweeter.
Check it out on GHR, starting at around the 90 minute mark:

https://www.iheart.com/podcast/53-the-grindhouse-radio-27408283/episode/1-24-19-sara-richard-30462781/
And you know, you really should tune in from minute 1, because there is SO much going on with GHR this week: The gang is joined by artist Sarah Richard whose work can be seen on the covers of IDW's My Little Pony chatting about all things artsy, including her time sculpting for Hasbro, and what she is currently working on.
---
As promised, here are links to everything we talked about today:
Spotify Mute Feature:
USAToday.com/story/tech/2019/01/22/spotify-rolls-out-feature-allows-users-mute-artists/2643230002/
Samsung S10 Neuro Game Booster Technology:
Igyaan.in/167411/galaxy-s10-neuro-game-booster/
Resident Evil 2 30 minute demo for PS4, Xbox, PC:
ResidentEvil2.com/us/demo.php
AND full game (starting 1/25/19):
ResidentEvil2.com/us/buy.php
---
And an Audio Transcript of this week's show:
Hola GGTers! Adesina here, and you know what? It's been too long since we've talked video games, and I think it's time to grab that controller!
(Spotify)
But first, maybe a little music to set the mood? Well, if you like to tune your groove with Spotify, the streaming service will soon be adding a new feature, that you might appreciate. Now, Confession: sometimes I don't like music streaming services. And that's because sometimes, when you're tuning into playlists, you end up hearing a few artists, that you really don't like. Well, Spotify has listened to our woes, and they're currently testing a new option on its latest iOS app: BLOCKING. Yeah, you know how you can block your ex, or that weird dude who keeps adding you even though you only met him ONCE, on Facebook? Well, soon you can block music artists who rub you the wrong way, on Spotify. And once you mute an artist, their songs will never come up in playlists, libraries, OR radio stations. As I mentioned, the feature is already being tested selectively on iOS; but no word yet, on when it will launch across platforms.
(Samsung S10)
Next, it's time for all my Android fangirls and boys to get hyped, because the Samsung S10 series is set to release in less than a month! So far, we see there will be 3 versions: the S10, a more affordable S10E, and the big and beautiful S10+. All three feature the trendy hole punch selfie cam instead of a notch; that means slightly more screen for you screen fiends, and the S10 Plus will boast TWO selfie cameras. And on the backs of these fetching phones, is not one, not two, but three cameras — that is, on the two pricier phones — the S10E will still only have two. AND, what I'm MOST excited about, is that this S10, could be a GREAT gaming phone. According to TechRadar, Samsung applied for a trademark just this past Monday, for technology called a Neuro Game Booster. Which most likely uses AI to maximize graphics and battery performance. So be on the lookout: Samsung will make the official reveal on February 20th, and the S10 could be your next gaming phone.
(Resident Evil 2)
And finally, Resident Evil 2! And if you haven't heard yet, this is the Resident Evil we have been waiting for: it's gorgeous, it's sleek, it's freaking difficult, but not too difficult, and it retains all the gory goodness that made us fall in love with it in '98. Only now, it's supercharged, the graphics are YES, and when I played it, it scared the living daylights out of me. Now, I know we've struggled with this franchise in the past; after the glory of Resident Evil 4, a lot of fans were disappointed with the ones that followed. But, this remake takes the series back to its horror roots, giving you that sense of being out of control, and putting you in an environment that is one of the scariest yet. Now if you are listening to this on our first broadcast, RE 2 isn't out yet, but on January 25th the wait will be over! And in the meantime, you can try out a 30-minute demo on Playstation and Xbox, so get to it!
Alright guys, that's it for this week's GGT Talk, head over to GoGGT.com/Talk for links, and I'll chat with you, next week!

---
Don't forget to follow us on social media for more:
Twitter.com/GamesGeeksTech
Instagram.com/GamesGeeksTech
Facebook.com/GamesGeeksTech
Youtube.com/c/GamesGeeksTech