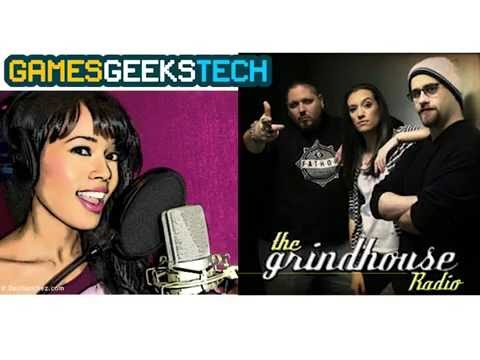 Hey GGTers, Adesina here, and this week on the GGT Talk we need to know: Which are better: Airpods 2 or Galaxy Buds? Also, we discuss the rise and fall of Theranos, and a new organization that is trying to improve ethics in tech startups.
Check it out on GHR, starting at around the 90 minute mark:

https://www.iheart.com/podcast/53-the-grindhouse-radio-27408283/episode/4-4-19-chris-harwood-30782934/
But OF COURSE, you'll want to tune in from the very beginning because GHR never fails to please. And this week, Zambo shares the knowledge of a Joe Pesci rap song, and the cast is joined by Chris Harwood; who is best known for his work on legendary shows including Wings, Will and Grace, and The Big Bang Theory. The GHR Crew chats him up about his new book, Pirates of Saturn and gets the inside skinny on the closing episodes of The Big Bang.
---
Short on time? Just listen to our standalone segment here:
---
As promised, here are links to everything we mentioned:
Apple Airpods 2: Buy on Amazon
Galaxy Buds: Buy on Amazon
CNET article on Buds vs Airpods 1:
https://www.cnet.com/news/airpods-vs-galaxy-buds-the-best-wireless-earbuds-are-best-sound
Gizmodo Airpods 2 Review:
https://gizmodo.com/the-new-airpods-are-fine-1833621733
Theranos documentary: The Inventor: Out For Blood in Silicon Valley
Ethics In Entrepreneurship: Official Site
---
And for the readers out there (please tell me you're all readers!), here's a transcript of this week's show:
Hola GGT Fam! Adesina here, and it's time for the Games Geeks Tech Talk. And this week we're looking at these new Apple Airpods: How do they stack up to Galaxy Buds? But first, let's get serious and talk ethics in technology, because some of these tech companies, are going a little wild.
[Ethics in Technology / Theranos]
So, if you've still got cable, you may have already seen the much-advertised HBO documentary, The Inventor: Out For Blood in Silicon Valley. And if you haven't, or if you don't even know what that is — never fear, no spoilers here! But, I will tell you that it's an in-depth look at the rise and fall of medtech startup Theranos, and its CEO, Elizabeth Holmes. And the reason we care, is because in the midst of so many tech industry scandals, from Facebook's multiple privacy issues, to the Google anti-trust investigation, to the ongoing no-platforming of controversial figures on social media sites like Twitter and Youtube, the Theranos debacle stands out in that it wasn't about a few backdoor deals, or even a general abuse of power. Instead, the entire basis of the company, the very technology it was supposed to be based on, was false! And, unlike most of the recent tech scandals over the past couple years, this one actually ended the company. But regardless, all of these scandals provoke the question: Is there a crisis of ethics in tech? Or in business in general?
Well, two former Theranos employees are addressing that question, and have started a new organization to help future startups play it straight. It's called, Ethics in Entrepreneurship. Erika Cheung and Tyler Shulz are the founders, and they were actually the whistleblowers in the Theranos scandal, so they know just how good ideas can go very, very bad. The venture is looking to establish non-profit status, both in the US and Hong Kong, and will put together tools for ethical business decision-making, as well as connect startups with ethicists and similar experts to help them grow the right way, so that everyone, including the employees and the consumers, is given a fair shake. They're accepting donations at the moment to help them get moving, and for the industry as a whole, hopefully this, is a step in the right direction.
[Apple Airpods 2 VS Samsung Galaxy Buds]
And now, on a lighter note, I know what you wanna know: Who wins? Airpods, or Galaxy Buds? Well, Apple just came out with their new Airpods 2, and you all already know I think Galaxy Buds have the old Airpods beat, but do the new Airpods change the game? I mean, in the Battle of the Earbuds, there can only be one, so which is it going to be? Well, the old Airpods gave you 2 hours of talk time, and 4 hours of music time, which Galaxy beats easily with 5 hours of talk time and 6 hours of music time. Plus, Galaxy Buds charge wirelessly, and the old Airpods? Not when they first came out! Oh, but now, the new Airpods do charge wirelessly, so that makes them just as good, right? Well, no, because the new Airpods still don't last as long as Galaxy Buds; only 3 hours of talk time, and 5 hours of music time — an hour less than Samsung. So does that mean Galaxy wins? Not if you take the cases into consideration. The new Airpods case holds more charge than the Galaxy Buds case, so as long as you have the fully charged case with you, you actually still get more time with the Airpods. Whew! But what about sound quality? Well, according to CNET, Galaxy Buds take the cake when it comes to listening to music, but call quality is better on the Airpods. But get this: that was for the old Airpods, and according to Gizmodo, both the old and new Airpods sound better than Galaxy Buds! Who to believe? Well, if you're an Android fangirl like me, you know the right answer. But alas, I know the Apple stans out there, have your answer as well. It all boils down to: Which phone do you have? Yeah, dude, they're both good; just get the buds that match your phone. And until the next generation hits, we'll call this one, a draw.
Alright that's it for this week's very dramatic GGT Talk! For links to everything we've discussed here, head on over to GoGGT.com/Talk and don't forget to subscribe. Later!
Thanks for listening! And don't forget to follow us on social media for more:
Twitter.com/GamesGeeksTech
Instagram.com/GamesGeeksTech
Facebook.com/GamesGeeksTech
Youtube.com/c/GamesGeeksTech