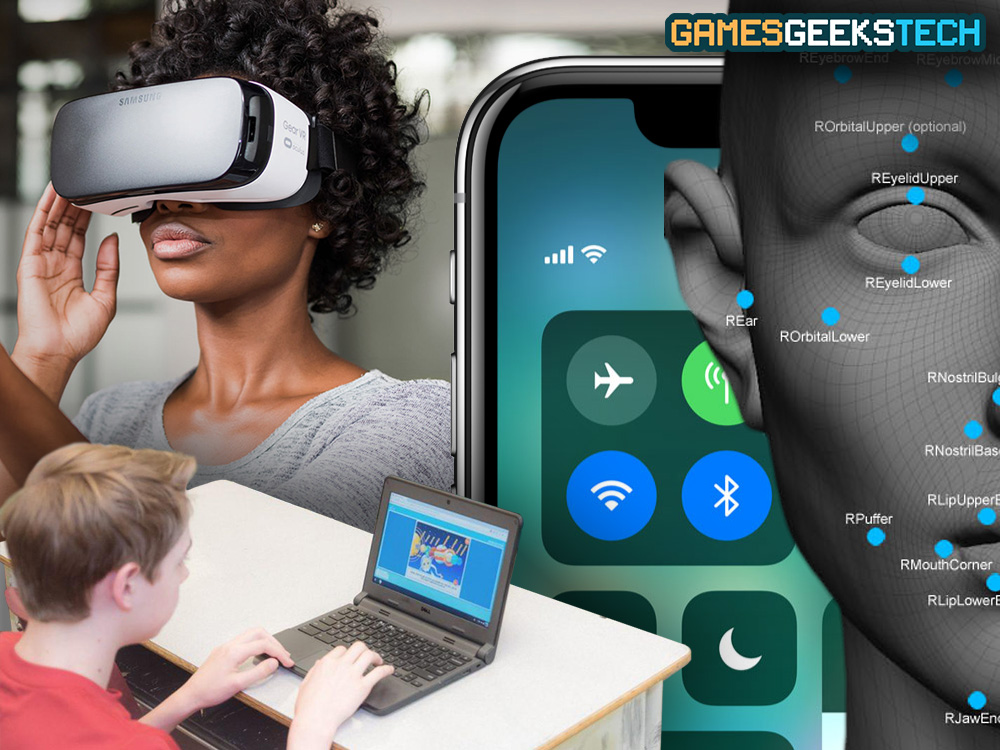 What's up GGTers! The Games Geeks Tech Talk is comin' at ya full speed, and this week we're talking about the new iPhone X, privacy concerns with Face ID facial recognition software, we share an inspiring story of how kids are learning with video games, and we give you the lowdown on a smartphone VR discount that will have you immersed in amazing 3-D worlds, without breaking the bank!
Are you ready? Watch on our YouTube channel below!
You can also listen to the teaser below on GHR, at about the 90-minute mark:

https://www.iheart.com/podcast/53-The-Grindhouse-Radio-27408283/episode/9-14-17-justin-nesbit-28459168/
And you know, you really should tune in from minute 1, because there is SO much going on with GHR this week: Kim, Brim, Zambo and Tom talk about upcoming films, argue about PooPourri, and more. Also, Justin Nesbit stops by for a chat!
---
UPDATE: As promised, here are links to all we discussed:
iPhone x: Specs from Apple
Video game programs for schools: Legends of Learning
Samsung Gear VR:
Want to jump on the Virtual Reality bandwagon, but those big price tags are holding you back? Well we found this sweet deal on a refurbished Samsung Gear VR that only Google Cardboard can beat in terms of price (but let's face it, the Gear VR has waaaaay more features than Google Cardboard)!
Compatible with the Samsung Galaxy S7, S7 edge, Note5, S6 edge+, S6, and S6 edge, the Gear VR lets you play immersive games, puts you in the middle of movies, and so much more. And Certified Refurbished means it's tested & certified to work like new, or you can return it if you're not satisfied!*
Want the newest edition of the Gear VR? Well for you full-price ballers lol, you can grab the 2017 version here, which comes with a controller to boot! –> Full Price (new with controller)»
Thanks for listening, and don't forget to follow us on social media for more:
Twitter.com/GamesGeeksTech
Instagram.com/GamesGeeksTech
Facebook.com/GamesGeeksTech
Youtube.com/c/GamesGeeksTech
*We are a participant in the Amazon Services LLC Associates Program, an affiliate advertising program designed to provide a means for us to earn fees by linking to Amazon.com and affiliated sites.