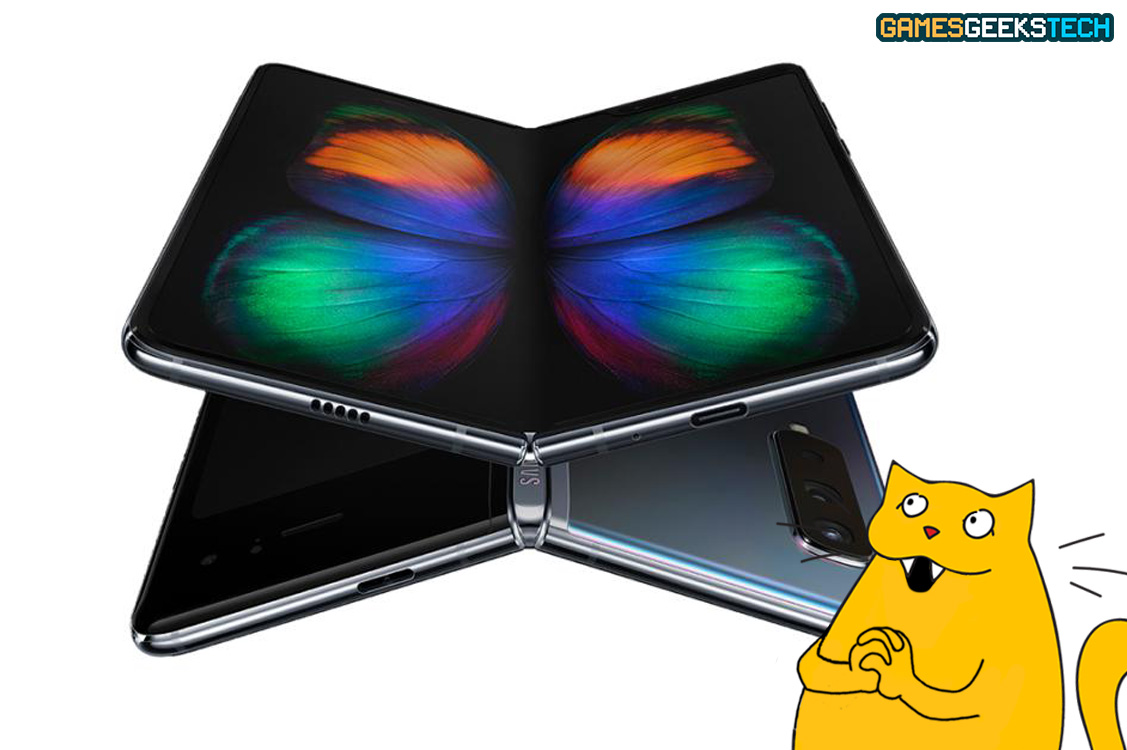 Hey GGT-ers, Adesina here, AND — folding smartphones are finally a thing! The excitement was unveiled at the recent Samsung Unpacked event, and if you missed it: Never fear, GGT is here!
I go over what to expect with the new Samsung Galaxy Fold and everything else Samsung had up their sleeve, on GHR, starting at around the 90 minute mark:

https://www.iheart.com/podcast/53-the-grindhouse-radio-27408283/episode/2-21-19-kevin-duhaney-30596025/
And you know, you really should tune in from minute 1, because there is SO much going on with GHR this week: The cast is joined by Kevin Duhaney of Four Brothers, Power Rangers and Total Drama Island chatting about stuff, things and what he is currently working on.
---
BTW, we have a YouTube version as well, if you like visuals:
---
As promised, here is a link to the Samsung Unpacked Livestream Replay:
https://www.samsung.com/global/galaxy/events/unpacked/
---
And our show in written form, if you don't have your Galaxy Buds on 😉 :
Hey all! Adesina here for the GGT Talk, and the folding phones are coming! That's right, a new generation of smartphones is hitting the market, and Samsung is one of the first on the scene. We'll chat about that and more, so let's get started.
(Samsung Unpacked Event)
SO, the Samsung Unpacked event recently went down this past Wednesday in San Francisco, and if you missed it, here's the skinny: They announced new earbuds, the AI-powered Galaxy Home speaker, a new watch, and five new smartphones, including one that folds!
(Galaxy Buds, Galaxy Watch Active, Galaxy Home)
Now, the earbuds are called Galaxy Buds; they are completely wireless, and will be able to handle five hours of talking, or six hours of music playing, on a single charge, which, incidentally, is longer than Apple's airpods. The new Galaxy Watch Active is all about user health, and it tracks blood pressure, among other things. And the new speaker is all about Samsung's AI assistant Bixby, and should launch, by April.
(Galaxy S10)
And now, the phones: The Samsung Galaxy S10 will have four different models, and they are looking good! The S10e is the least costly of the foursome, starting at 750 dollars. It's got a 5.8 inch display, preorders have already started, and it will be up for sale on March 8th. And on the other end, the most "out there" of the bunch is the S10 5G, and you guessed it, it's 5G capable. Which, by the way, hasn't even rolled out in most places yet, so there's that. And the rest of the lineup is equally impressive, with the S10+ maxing out at an insane 1 terabyte of storage. Oh and did I mention, the S10 phones have a built-in Instagram mode where the camera can post automatically to Stories and you can even use the IG filters with it? Plus, the phone can also wirelessly charge other phones, which is pretty cool.
(Galaxy Fold)
But what I really want to talk about is the phone that bends like a flip phone but has a screen as big as a tablet: the Samsung Galaxy Fold. Yes! Folding phones are here! And ok, Samsung technically is not the very first, but it will probably be the first that actually sells, because this baby is beautiful. Folded, it has a modest 4.6 inch display, but when you open it up, the fully bendable screen on the inside turns it into a 7.3 inch tablet! It's got 2 batteries (one on each side), 12 gigs of RAM, 512 gigs of storage, and it has no fewer than six cameras: One on the front, two on the back, and 3 on the inside. This thing is like Selfiegeddon; all it needs is for it to actually be able to take pictures with all six cameras at once, and Instagram might just explode! Now fancy tech like this is expensive: the Galaxy Fold starts at nearly 2 grand, so I'm guessing unless you were already planning to buy both a smartphone and a tablet separately, that's out of most people's budgets. But if do you want to be one of the 'folding elite,' it hits stores on April 26th, and will be available in black, silver, green and blue, with varying hinge colors.
Alright that's it for the GGT Talk; for links to all we've discussed as well as a replay of the Samsung Unpacked Livestream, head on over to GoGGT.com/Talk, and I'll chat with you next time.
Don't forget to follow us on social media for more:
Twitter.com/GamesGeeksTech
Instagram.com/GamesGeeksTech
Facebook.com/GamesGeeksTech
Youtube.com/c/GamesGeeksTech