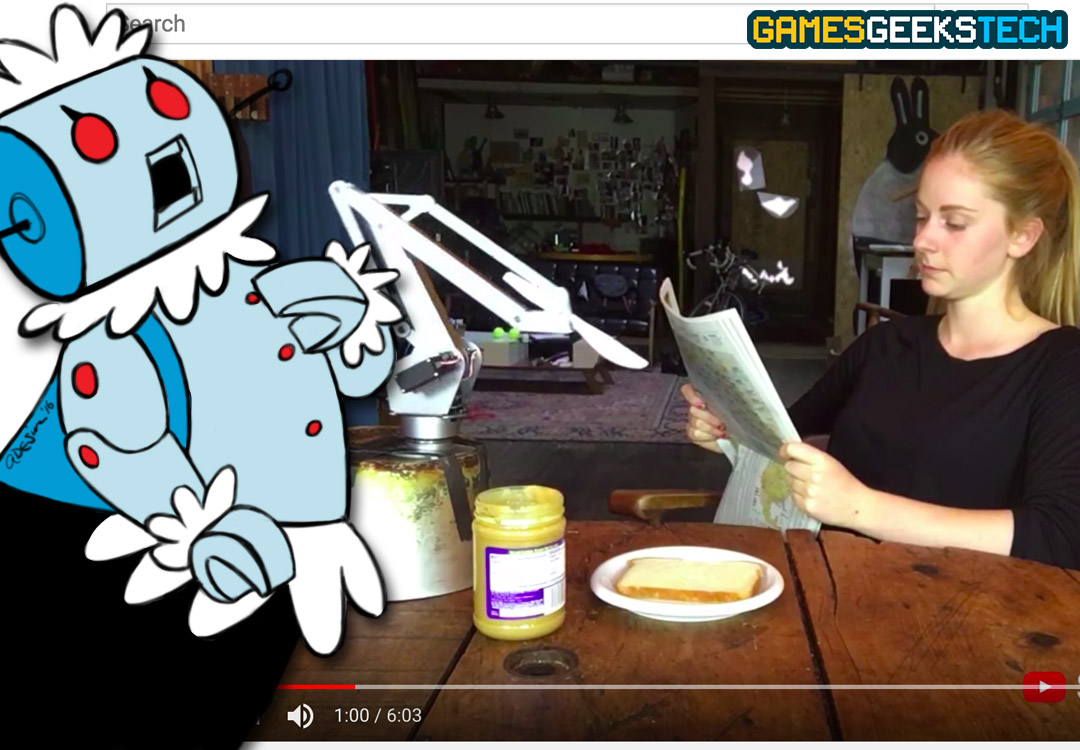 …And make us a sandwich!
Robots everywhere could easily be offended by such a demand, but then again, robots never get any respect. SMH.
But who we DO respect, is self-proclaimed "Maker/robotics enthusiast/non-engineer," Simone Giertz. GamesGeeksTech first reported on her a couple weeks ago on the GGT Talk, when she released her infamous Pokemon Helmet, and now, our favorite inventor is BACK, with yet another invention that we didn't know we needed, but somehow, our lives are enriched for having beheld it.
Enter: The Sandwich Robot. *SPOILER ALERT!*
Like most of Simone's videos, this one sucks you right in, despite knowing that the machine probably won't do what it's supposed to, but maybe, just maybe, just this one time…. Nope — nope, noooo this machine definitely does NOT work. It didn't work, and though somehow Simone got both peanut butter on her leg, and newsprint on her face, she sadly was not given anything by this robot, that might resemble a sandwich. Ah well!
Now, even though we just spoiled the ending, we didn't spoil the video, because the real fun, is in watching the youtuber's priceless facial expressions as it all unravels!
Check it out below and maybe even leave her a comment on Youtube — Tell her GamesGeeksTech sent ya!
*Rosie the robot cartoon drawn by Adesina