Hey GGT fam! The holidays are upon us, and if you're like me, you've still got some last minute shopping to do, and you have family coming over that you have NO IDEA what to do with lol. Never fear – GGT is here! We're counting down our Top 3 Last Minute Gamer Gifts and we'll give you some ideas for family-friendly video games to keep the relatives happy and smiling their entire holiday visit!
– Desi
As usual we're at about the 92-minute mark:

https://www.iheart.com/show/53-The-Grindhouse-Radio/?episode_id=27894256
Got a little more time? Well listen right from the beginning and enjoy a fully-fledged Holiday Grindhouse Radio experience! Kim and Tom bring in presents for Christmas, Evan Ginsburg chats up The Peanut Gallery, and Ernie Hudson from Ghostbusters joins in on the fun!
---
12/29/16 Update:
Tuning in late? You can still check out our Top 3 lists below!
GGT's Top 3 Last Minute Gamer Gifts
3. Cute gamer novelty gifts: Yes you can pick up a cool t-shirt or funny mug anywhere, but when you're out of time and short on cash, here's a list of novelty gamer treasures that are not only under $20, but can ship in 24 hours!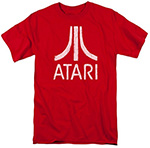 Atari T-shirt
$12 + shipping
Buy:
https://www.amazon.com/dp/B01H7EDJOA?psc=1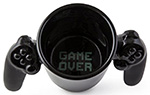 Game Over Mug
$9.99 + shipping
Buy:
https://www.amazon.com/BigMouth-Inc-Game-Ceramic-Black/dp/B00MTZLEJ0/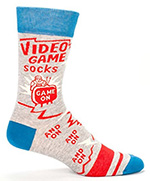 Video Game Socks
$12.75 + shipping
Buy:
https://www.amazon.com/Blue-Mens-Novelty-Crew-Socks/dp/B01CEZTJAU/
2. GameStop gift card: For a quick gift on the way to the party, stop at a neighborhood Gamestop and pick up a gift card.
Locate a store»
Or, if you have more time, or want a digital e-card, visit their web site»
1. Steampowered.com digital game download: You can shop for a video game on Steampowered.com, add the game to your cart, click "Purchase as a Gift" and boom! Your recipient will get an email with a download link. Yeah man!
GGT's Top 3 Family-Friendly Video Games Ideas for the Holidays*
1. Almost anything Wii U: Getting entire families on their feet & having fun, the Wii U has games for the whole tribe, big and small! Here are some fun ones:

2. Rock Band Rivals: An expansion for Rock Band 4, Rock Band Rivals is available for Xbox One & PS4 and features a killer Wireless Fender Jaguar Guitar Controller. Niiiice. Check it out here».
3. Spaceteam: A mobile game for both iOS & Android, Spaceteam will have the whole family laughing & working together, shouting directions, and trying to "save" the spaceship. Download it here».
* We have included links here either to the official websites for these games, or to the online retailer whose prices were lowest at the time of this article's publication. We receive no compensation for providing these links and cannot guarantee they will be the lowest prices going forward; please feel free to comparison shop! – GGT
---
Thanks for listening and don't forget to follow us on social media for new stories & memes:
Twitter.com/GamesGeeksTech
Instagram.com/GamesGeeksTech
Facebook.com/GamesGeeksTech
Youtube.com/c/GamesGeeksTech