Hola Geeky Gals n Guys! Yes, despite all of our best efforts to avoid it lol, Valentine's Day is upon us! But never fear, we've got geek-friendly gift ideas that won't worry your wallet, as well as some video games to get you both in the mood for looooove.
As usual, we come in at about the 92-minute mark:

https://www.iheart.com/show/53-The-Grindhouse-Radio/?episode_id=27980047
And if you really want a good time, you'll listen in from the start, because not only do Brim, Zambo & Kim dish up the BEST in pop culture, but WE'RE HAVING A MEET AND GREET! The GHR fam gives you the skinny, and Chef Barret even stops in for another episode of Minced. Share and enjoy, and…
HAPPY VALENTINE's DAY!!!
---
02/16/17 Update:
As promised, here are links to all the Valentine's Day goodies we discussed.
VALENTINE'S DAY GEEKY GIFT IDEAS:
Millennium Falcon Bluetooth Speaker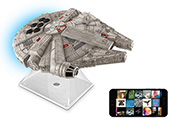 A great gift for any Star Wars fan, This speaker is the real deal: officially licensed, it lights up when in use, streams music wirelessly up to 30 feet away, and you can even take phone calls on it!
$49.99
Check it out at ThinkGeek: ThinkGeek.com/product/iqpu/
---
FNAF Freddy Fazbear Pizza Kit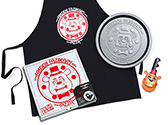 Nothin' says lovin' like a homecooked pizza and some Five Nights at Freddy's! This fun pizza kit includes an apron, pizza pan, pizza cutter, and a pizza box, all branded and officially licensed. Now all you need is to learn how to cook 😉
$24.99
Also from our friends at ThinkGeek: ThinkGeek.com/product/itlh/
---
Google Cardboard
Ok, we know you're on a budget! And all these "officially licensed" gift ideas are great for gamers, but maybe your sweetie is more of a tech geek than a gamer geek. Never fear! For under $20 you can give your Valentine a taste of VR, courtesy of Google!
$15 for one, or $25 for two
Get it: Store.Google.com/product/google_cardboard
---
VIDEO GAMES TO PLAY TOGETHER ON VALENTINE'S DAY:
Portal 2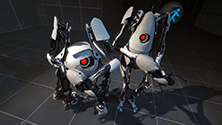 Played in co-op mode, you and your partner can have fun solving puzzles together even if one (or both) of you, aren't a skilled gamer. It's been around for a bit, so for consoles you're looking at getting it for Xbox 360 or the PS3, but it's also available on Steam for PC.
$19.99
Portal 2 on Steam: Store.Steampowered.com/app/620/
---
Just Dance 2017

A night of dinner & dancing is how our parents used to romance. Let's update it, gamer-style, by challenging your sweetie to a few rounds of Just Dance, on Xbox, PlayStation, Wii or PC. Who knows? Maybe you'll both work up a sweat and an appetite for loooooove ;).
Start movin': Just-Dance.ubisoft.com
---
Fingle

With a thumbnail like this, you know Fingle will have you and your crush giggling awkwardly into the night :D. According to the web site, you can "explore the intimate touch of each others fingers with Fingle's two-player puzzles" —  well alright!! And at under a buck, you're not breaking the bank, even if they eventually break your heart </3
$1.99 –> Update! Now only $.99!
Get it for iOS on the App Store: iTunes.apple.com/us/app/fingle/id490109661
---
* NOTE: Prices & links are accurate as of the publication of this article, and are subject to change.
Thanks for listening and don't forget to follow us on social media!
Twitter.com/GamesGeeksTech
Instagram.com/GamesGeeksTech
Facebook.com/GamesGeeksTech
Youtube.com/c/GamesGeeksTech