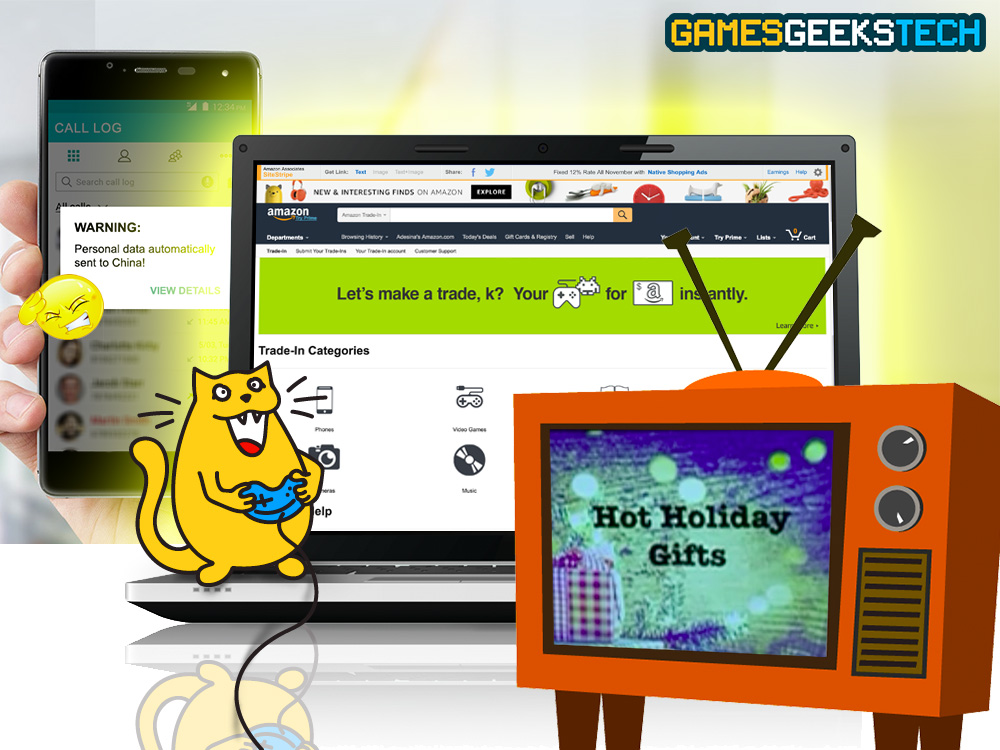 Hey now GGT-ers! Are you ready for another edition of the Games Geeks Tech Talk? This week, we give you the scoop on some smartphones that are sending American users' data to China (!!!), and just in time for holiday shopping, we give you an update on Amazon's new video game trade-in feature, and even give you a teaser on Desi's Hot Holiday Gifts & Gadgets Guide!
We're on at around the 90-minute mark; here's the link:

http://www.iheart.com/show/53-The-Grindhouse-Radio/?episode_id=27825182
BTW, on this week's GHR, Kim's away and the boys will play! The guys chat UFC 205, Dan Nelson stops by with some stories, and Scott takes over Kim's Questions — don't miss it!
---
11/24/16 Update:
As promised, here is the complete list of my Holiday Gifts and Gadgets!
Holiday Gifts and Gadgets 2016:
Feel free check out one of my complete TV interviews covering my four top picks:
And the written breakdown, for those of you who are on the go 😉 :
ZOOMER CHIMP
This little robotic chimp is ADORABLE! He moves and sounds just like a real chimpanzee — I was rolling the minute we turned him on because he's just so silly :). He rolls, flips, moves on all fours, stands by himself, and can even follow kids around!  He can do 10 easy to remember tricks from voice commands, PLUS the more you teach him, the more words and features are unlocked, so he never gets repetitive. I had a Teddy Ruxpin as a kid, and I think this is going to be a similar toy that every kid wants this year! You can find out more at www.SpinMaster.com
---
SAMSUNG PORTABLE SSD T3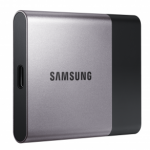 This is more than just a gift for others; it's something you'll want for yourself. All of us are INUNDATED with data. And half the time, we don't even have enough space for all the pictures, videos, and files that jam up our phones and computers. So I really appreciate this little external drive, because it's small enough (smaller than a credit card!) to take with me anywhere, plus it stores up to 2 TERABYTES of data — more than enough so you'll never run out of space to take photos or videos again. And it works with an app for Android (yes! Android fangirl here lol), so you can manage your content easily. And did I mention it's an SSD? Yeah, that's the durability you need in a travel drive; no worries about it being too delicate to take with you. Check it out at www.Samsung.com
---
ZEISS DURAVISION BLUE PROTECT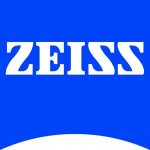 This one was actually inspired by my Mom, who is a doctor and is always warning me about hurting my eyes from staring at computer/tv/phone screens all day. I admit I didn't listen at first, but lately my eyes have begun to water, especially at night when I'm in bed on my mobile. So I did a little research and actually discovered that digital devices emit blue light, which can cause "digital eye strain" — yikes! Luckily, Zeiss has a lens coating for your glasses called DuraVision Blue Protect, which filters out the blue wavelengths so we can stay on our devices for much longer, comfortably. Might be a nice gift for the techie who's always up coding until 3am, or even for yourself, if you find your eyes hurt after a few hours of gaming. More info here: www.Zeiss.com 
---
THINGS REMEMBERED

Alright this one isn't exactly techie, but it's a great one for that person on your list who you really have to get something personal – maybe a parent, or your boss, or your crush 😉 . Things Remembered is both a retail chain and a web site, that has over 6,000 items you can customize — not kidding! Stuff that Mom/Grandma will like, like keepsakes and jewelry, and even fun toys for little brothers/sisters, and household items everyone needs. Plus, it's not just putting people's names on things: you can monogram them, write out a message or a joke — anything. If you're like me and can't stand endless hours of shopping, this is an easy way to knock out a whole bunch of people on your list at once, and at the same time create personal gifts that people will really remember and love you for. Check them out at www.ThingsRemembered.com
---
Thanks for listening and don't forget to follow us on social media!
Twitter.com/GamesGeeksTech
Instagram.com/GamesGeeksTech
Facebook.com/GamesGeeksTech
Youtube.com/c/GamesGeeksTech