Whew! It sure takes a lot of work to put together so much stuff in one site! Thank goodness we have partners who help make the magic:
The Brodie Kings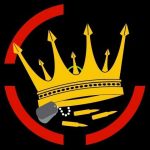 Got Memes? The Brodie Kings do! If you like our Instagram page, chances are, you've liked a meme provided by The Brodie Kings, a family of gamers who YOU need to know. But they're not just memes; they have so much more! So check out their Facebook group and see what the awesome is about!
The Grindhouse Radio
Best. Podcast. Ever. Every week the Grindhouse Radio hosts the Games Geeks Tech Talk, broadcasting out to 17 radio stations & 3-4 million listeners worldwide :). But that's not all! Brim, Zambo & Kim are ALWAYS mixing things up; with pop culture news, amazing guests from the film, comic book & celebrity world, and plenty of laughs. Tune in Thursdays at 6pm EST!